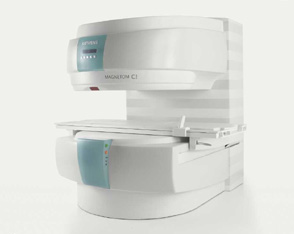 The Magnetom C! 0.35T by Siemens is a mid-field MRI system that provides superb image quality with the largest anatomical coverage. It is a multi-channel RF MR system with the best SNR at 0.35T. It is equipped with a unique C-shaped magnet. This provides for easy side loading and a compact design to create an open and free atmosphere for your patients. It is also equipped with extra large body and knee coils to help accommodate your obese patients and provide them with a more comfortable exam. The Magnetom C! 0.35T has a patient friendly design and has a wide choice of applications that will result in more referrals for your clinic.
When you use the Magnetom C! 0.35T you are going to experience shorter scan times and higher throughput. This MRI system will offer your clinic exceptional gradients for rapid acquisition as well as highly differentiated image details. It is equipped with quick and easy patient positioning and posterior coil parts that will remain on the table. It also offers the benefits of low operating costs which will give you a high return on your investment.
Siemens Magnetom C! 0.35T Product Description
Provides the best SNR at 0.35T
Low operating costs
Uses advanced imaging techniques
Extra large body and knee coils
Wide choice of applications
Clinical Applications
syngo MR Neuro
syngo MR Ortho
syngo MR Vascular
syngo MR Cardiac
syngo MR Pediatric
syngo MR Oncology
syngo MR Body
For more information on the Siemens Magnetom C! 0.35T MRI system, contact Siemens MRI Equipment. We can provide high quality MRI equipment at the right price for your clinic.