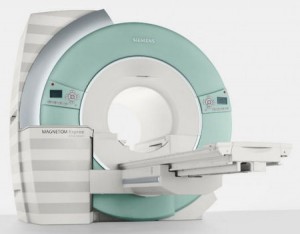 The Magnetom Espree 1.5T is an open bore MRI system that allows a new level of comfort for your patients. This system has an opening of almost 2.3 feet in diameter to provide a full foot of space over the patient's head. Its short bore enables physicians to perform exams with their patient's head completely outside the magnet which provides benefits for claustrophobic patients.
The Magnetom Espree 1.5T by Siemens comes equipped with the shortest 1.5 Tesla magnet that is available. It can perform advanced clinical applications and comes equipped with the Tim Technology (Total Imaging Matrix) that delivers high quality imaging and reduced exam times. With the Tim Technology, whole body scans can be performed in one single pass. It also enables flexible coil combinations to encompass local high resolution imaging to large anatomical coverage.
Siemens Magnetom Espree 1.5T Product Description
Extra wide design helps accommodate larger patients
Table can handle 500 pounds both vertically and horizontally
Provides up to 3 times more power than conventional open MRI systems
Can provide a Field of View of up to 205 cm
Requires only 323 square feet to install
Clinical Applications
syngo SWI
syngo REVEAL
syngo BEAT
syngo GRAPPA
syngo SPACE
Tim Application Suite
For more information on the Siemens Magnetom Espree 1.5T MRI system, contact Siemens MRI Equipment. We can provide high quality MRI equipment at the right price for your clinic.