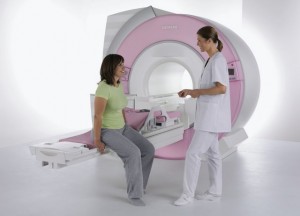 The Magnetom Espree Pink is Siemens first MRI breast scanner. It is an open-bore MRI scanner that is the shortest system on the market. This system provides a dedicated solution for breast examinations. It is only 125 cm with a 70 cm inner diameter. It provides openness to ease anxiety in obese or claustrophobic patients. This MR system allows patients to be examined in a head-first position as well as a feet-first position to provide increased comfort for patients.
The Magnetom Espree Pink provides patients with fast imaging and short exams. It is equipped with the flexible design of the Sentinelle Vanguard breast coil that optimizes the clinical workflow. This coil makes imaging and biopsies possible with the use of only a singe coil. It also offers a comprehensive range of clinical applications to be used for breast imaging. This system also has the ability to upgrade to a fully equipped Magnetom Espree which gives you investment protection in the event that you want to upgrade to a MR system with whole-body diagnostic capabilities.
Siemens Magnetom Espree Pink 1.5T Product Description
Provides for comfortable examinations
High quality images
Wide range of applications
Equipped with 18 channels
Sentinelle Vanguard for Siemens coil
Clinical Applications
syngo VIEWS
syngo REVEAL
syngo BLADE
syngo GRACE
For more information on the Siemens Magnetom Espree Pink 1.5T MRI system, contact Siemens MRI Equipment. We can provide high quality MRI equipment at the right price for your clinic.